Holidays come in all shapes and sizes from adrenaline pumping adventures to relaxing beach holidays.
Ski trips, country retreats, backpacking adventures or tropical escapes; whatever your ideal getaway, there's one thing most of us share – the desire to take more trips.
A recent survey by Booking.com found that over half of travelers plan to take more weekend trips in 2019 and 43% stated they were interested in staying in an accommodation type they'd never experienced before.
In response to these findings, the travel operator launched a highly-engaging experiential campaign that combined a weekend stay with an accommodation type like no other.
Booking.com prides itself on empowering people to experience the world, offering a vast range of different types of accommodation for short breaks and holidays.
Taking people back to their childhoods of buckets and spades on the beach, the digital travel platform gave holiday makers the opportunity to stay in a truly magical accommodation…a huge sandcastle!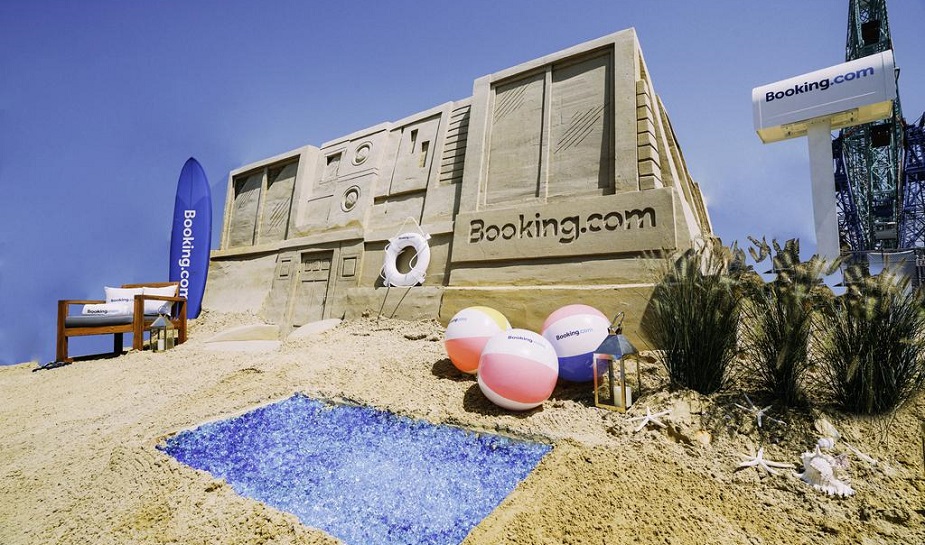 Adaptly named, 'SAND'-sion the once-in-lifetime experience was created in time for National Sandcastle Day on August 19th and paid homage to the 29th year of the Annual Coney Island Beach Sand Sculpture Competition.
Available for the low price of just $29 a night, the incredible holiday home was located directly on the beachfront and was crafted from almost 100 tonnes of sand on Coney Island, Brooklyn.
The largest sand sculpture constructed in New York City, it stood at 8 feet high and 18-foot-long and was supported by a wooden structure on the inside to combat any fears over safety. The epic structure was created by the famous Sandman, Matt Long, a master sand sculptor who has fashioned giant sand structures all over the globe.
The unforgettable and exciting stay was available to book for two nights for a two-person stay in the one bed structure – making this seaside escape an exclusive short vacation.
Included in the price was a dinner for two on the coast, sunrise beach yoga and VIP passes to the amusement park – Luna Park; offering a thoroughly luxurious and enjoyable experience.
Guests to the 'SAND'-sion stepped inside the incredible accommodation to find top-of-the-range amenities and Booking.com branded accessories including beach bags and headphones.
Other brands that have used the beach as a stage to host exciting experiential campaigns include Coca Cola who put 500 cans frozen solid in a giant ice cube on a hot beach in Brazil. And Smith and Forge's unforgettable prank at Muscle Beach where a professional athlete was transformed to look like an elderly man and shocked visitors which his extraordinary strength.