There are two types of people in airports.
Those who coolly arrive for their flight hours before the departure time and those mad dashers who leave it to the last minute.
Whichever camp you sit in, passengers on average wait over an hour between getting through security and boarding the plane. And traveller dwell time presents a big opportunity for travel retail brands to tap into the continual stream of international foot traffic.
Experiences such as whisky tasting, fragrance sampling and virtual reality demonstrations have become increasingly popular across duty-free.
To get into the spirit of Australia's summer season, Bombay Sapphire paired up with Heinemann Australia and Sydney Airport to showcase an avant-garde sensory pop-up.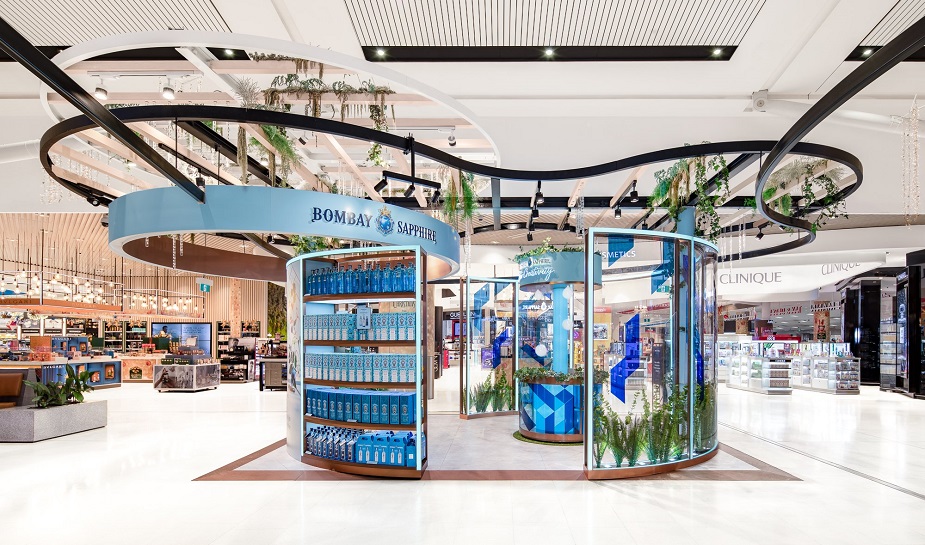 Named 'Stir Creativity', the pop-up invited travellers to create their own Bombay Sapphire cocktail and explore the aromatic world of its latest launch, Limited Edition English Estate.
Disrupting passengers on their journey, the 360-degree immersive experience captured the essence of the English countryside. It was positioned under a contemporary glasshouse to imitate the modern Bombay Sapphire Laverstoke Mill distillery.
Focused on the aromas of the botanicals used in the Bombay Sapphire recipe, vapour droplets were used to create a multi-sensory story to the sound of trickling water from a botanical fountain.
Travellers could create their own cocktail, with an expertly guided tasting experience of the perfect Bombay Sapphire and Tonic pairing and experience the new Bombay Sapphire English Estate cocktail.
Building on the experience, Sydney's leading bartenders also held inspiring talks and shared expert cocktail recipes, which could later be downloaded from a QR code to try at home.
The highly-engaging sensory experience captivated travellers at multiple touch points throughout their journey. From collaborations with social media influencers, branding on laptop trays in the airport security zone, and digital displays in the departure lounge and airport exits.
Summery immersive campaigns from drinks brands have been effective in winning the hearts and minds of consumers, such as Pernod Ricard's tropical Malibu games or Orangina's activation which got people shaking.