The summer is a bad time of year for blood donations.
Holidays, high-profile sporting events and increased socialising mean that fewer people tend to come forward to donate.
One in 3 people worldwide needs donor blood at least once in their life, though 90% of people who are eligible to donate blood are not currently doing so.
Russia is one of many countries appealing for more people to come forward, despite the country's government offering financial incentives to people to donate. Blood donations have a short shelf-life, so regular donors are essential to secure a constant supply.
Hospitals in Saint Peterburg, Russia's second largest city, are reported to currently be suffering from a lack of donations where patients are said to be waiting in the ward for blood. To encourage more people to give blood, Fonddonorov (also known as Donor's Fund), launched an experiential stunt in the heart of the city.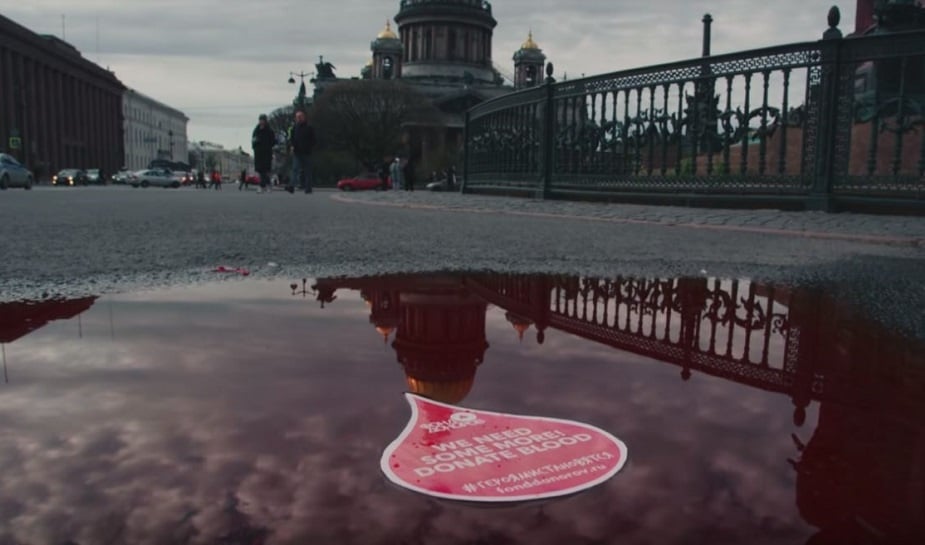 In amongst the historical monuments, statues and tourists attractions, something quite repelling yet intriguing interupted the neat paving stones.
Unusual red puddles appeared on the public walk ways that looked remarkably like blood. Each puddle contained a sign in the shape of a red droplet bearing an important message in both Russian and English.
To remind people about the importance of donating, the messages delivered a clear call to action: "Donating blood will prevent the blood bank from draining" and "We need some more. Donate blood."
As part of the thought-provoking brand experience, the puddles provided a visual representation of the volume that is needed to save a person's life.
The video of the campaign shows saint-petersburgers stopping in their tracks to read the messages in the puddles or taking photos. Many look shocked, perhaps a little disgusted, and some actively step over the puddle.
It's a highly-effective use of disruptive marketing. The contrast of city backdrop with the shocking red puddles is incredibly eye-catching. And by creating the puddles in the middle of the walkway, people had to break their stride and actively step around the puddle; disrupting the normal hustle and bustle in Saint Petersburg.
The memorable campaign is very simply executed to deliver a tough message and appeal to people's sense of social responsibility.
Another great experiential campaign that encourages people to give blood was delivered by TV show The Walking Dead in collaboration with Portugal's national blood bank institute, IPST. The use of blood or body parts in a campaign is a powerful way to shock and educate consumers, like this extreme, attention-grabbing stunt from PETA.