We are very proud to have been a part of the Hive and ENI gas e luce partnership launch at Milan Design Week earlier this month.
We worked in collaboration with Conversion, Mario Cucinella Architects and School of Sustainability (SOS) to create Smartown, a project which showcased smart home innovation and how it can drive energy efficiencies across a city. The activation took place in the picturesque Orto Botanico gardens, a secret garden at Milan University.
We helped develop and design 33 Hive smart homes, which brought to life a dozen use-cases for the Hive suite of products. These included interactive elements – such as being able to control one of 16 million colours at a children's party – all via the Hive app in a small Hive smart home. Our collection of small houses were part of 400 which featured in the gardens, all of varying heights, which resulted in quite the visual spectacle.
A skyline installation formed the bookend of the gardens, which housed a beautiful story about how Hive and ENI gas e luce co-created Smartown.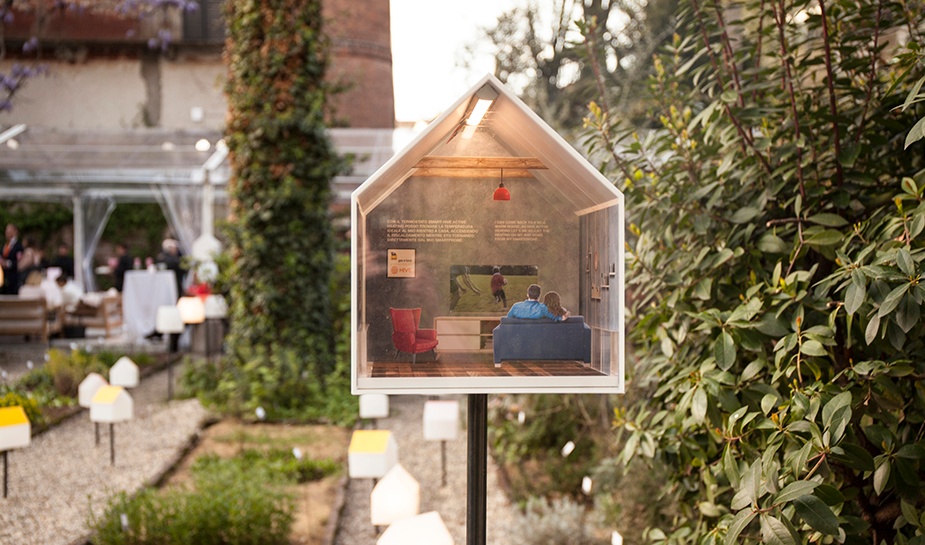 One side told the story whilst the other side was fitted with mirrors to reflect the lush botanico gardens, making the installation look even bigger than it was. The skyline featured four large, rounded buttons which enabled consumers to see how much energy is used by residential vs. commercial establishments. When the buttons were pressed, a percentage of lights would glow dependent on the scale of energy use at residential vs. commercial properties, a sight that looked incredible as the sun set.
Influencers were invited to the gardens and shared fairy-tale-like posts as they were surrounded by small, glowing houses against a lush natural backdrop.
Alongside the Orto Botanico installation, Because designed an interactive product display which enabled visitors to trial Hive Active Heating, Hive Active Lights, Hive View Camera and learn more via the ENI gas e luce ecommerce site.
Hive and ENI gas e luce also created a pop-up store, which is live until the end of July, down Corso Buenos – so make sure to check it out. We designed an interactive Hive home pod, which showcased how Hive products can give peace of mind, comfort and control all through the use of the Hive app, ultimately showing the Italian market how Hive can help you live smarter.
We've been lucky enough to work with Hive on projects across North America, Germany and Italy, and with Hive's rapid expansion looming, we predict many more international campaigns on the horizon. The Milan Design Week project was a fantastic example of team work across all stakeholders involved, which brought this magical brand experience to life.