With one of the most significant drought's in decades and NSW recording the driest winter since 1965, there's a real need to educate people to help reduce water waste.
But water conservation can feel like a big, overwhelming issue – and people often think their own individual actions won't make a difference. So Sydney Water wanted to deliver an educational campaign that offered the public helpful and simple water saving tips, while avoiding an alarmist, fear mongering approach.
The goal of the campaign is to help reduce water demand across greater Sydney by encouraging the community to cut down their water consumption, specifically targeting spikes in daily use during hot, dry weather in the summer. Each Sydneysider uses approximately 200 litres of water daily. By dropping usage by 20 litres per day collectively, we can save 100 million litres every day.
Our solution is Sydney Water's Tiny Home : a shipping container that has been transformed into a tiny home with a lounge, kitchen, bathroom and garden that offers tips and tricks for reducing water consumption.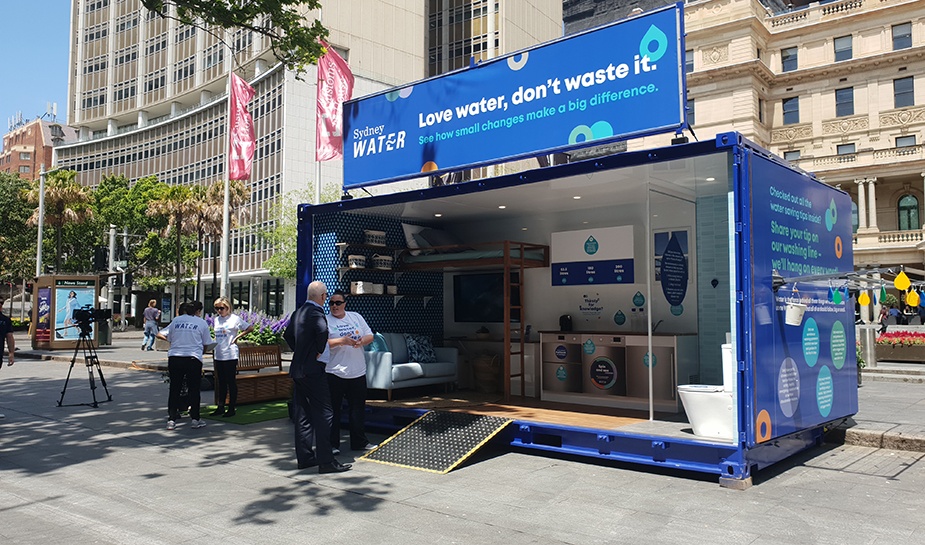 Some helpful tips include using a half-flush vs. a full flush, washing veggies in a plugged sink and removing weeds as soon as they sprout in your garden.
Participants can also take part in a karaoke challenge to highlight how long they spend in the shower. They can choose a 4-minute song, sing it out loud and receive a 'Love water, don't waste it' shower cap. Visitors can also share their own water saving tips on our tips line.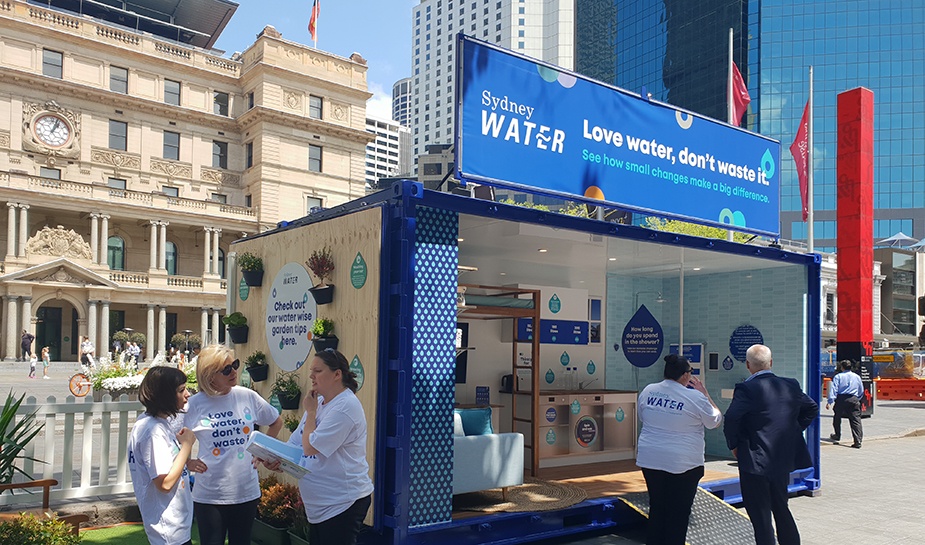 This educational hub offers an informative, interactive and engaging experience providing simple, tangible ways each of us can save a 'shipping container or more' of water every year.
Our Account Director, Carl Stanley-Jones, has been working on the project and shares his thoughts:
"Our main goal for Sydney Water's Tiny Home is to create an experience that both engages and educates the community about simple behaviour changes that will make a big difference in cutting down water wastage. Sydney Water's Tiny Home helps give context to what we can do around our homes to make an impact. This is my first project since coming over from the UK and I'm so proud of the message we are conveying and the experience we have created."
Carmen Prince, Senior Advisor Sponsorships & Partnerships at Sydney Water said the Tiny House activation gives the community a fun, hands on demonstration focused on small changes.
"Something as simple as taking shorter showers is one of the best ways to save water. Reducing shower time by one minute can save nine litres of water every shower."
Sydney Water's Tiny Home roadshow was launched during Water Week (22-28 October). The tour will make its first stop at Customs House at Sydney's Circular Quay before visiting other locations across Sydney. For more information and water saving tips, visit Sydney Water's Water Wise website.