Live brand experiences provide the chance to bring your products straight to your customers. Successfully taking an experience on the road is all about distilling down the best bits and then giving consumers a flavour of what is on offer. Even in the strangest of locations.
That's exactly what burger chain A&W recently did. And we love their novel approach.
The fast food outlet created the world's first 'float-thru,' a floating restaurant built on a barge. Decked out as a mini A&W restaurant, the barge appeared along a stretch of river in Penticton, British Columbia, much to the delight of those that had also chosen to enjoy that particular stretch of Canadian water at the time.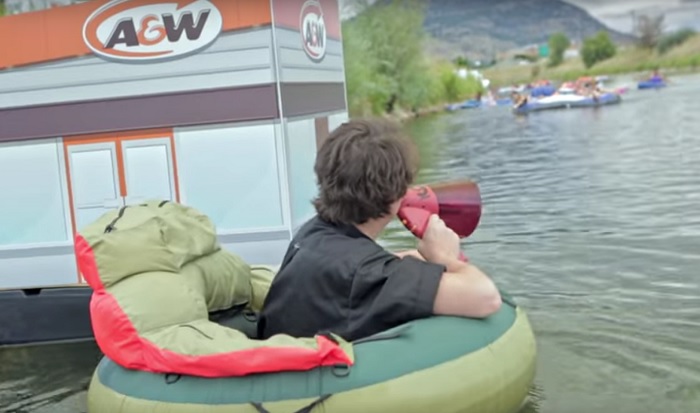 Supporting A&W's advertising campaign was their brand ambassador known as 'trainee Ryan,' armed with a with a loudspeaker in hand, to made sure that it wasn't possible to miss the presence of the restaurant.
And, of course, he had the most important job of all: to hand out free burgers to all those that passed by either on, or in, the water.
"I love your delivery style," shouts one happy sampler. And we agree.
The witty banter, delighted faces and unusual setting all make for a great video. It's a lot of fun.
We always like to see brands go outside of their comfort zones to try something different on the way to building brand love. Experiential marketing coupled with creative sampling offers the perfect platform to do just that, taking an experience straight to the customer and delighting them with a moment they will remember for a long time.