Held in Las Vegas, CES brings the world's biggest tech players together to showcase the next-generation innovations set to join the marketplace.
From robots in the household to life-changing healthcare innovations, the Consumer Electronic Show gives a glimpse into the future of our 'smart' lives.
One brand that never fails to disappoint at CES is Amazon, and this year the brand went bigger and better with a clever experience-driven stand that delighted and impressed show attendees.
The exhibition area was divided into sections such as "busy parent," "home chef," "entertainment enthusiast," and "work-from-home employee," to demonstrate how Amazon products such as Fire TV, Alexa assistant and ring home security, can provide support in the home.
Winning over the hearts and minds of visitors, there were futuristic product demos including a robot scooping, shaking and serving popcorn.
We already saw the robotic pizza maker yesterday. Today at Amazon's #CES press event we have the robotic popcorn scooper. It even shakes the seasoning at the end. Not an actual product, just a promo for Fire TV…but is it the future? pic.twitter.com/brSKy3eona

— Taylor Soper (@Taylor_Soper) January 8, 2020
The immersive and integrated stand was reminiscent of Amazon Alexa's Home of Imagination which also gave an imaginative look into homes of the future.
Though that wasn't all. The tech giant announced its presence at the show with an incredible, star-studded after-hours party dubbed 'happy hour'.
The event was designed to educate CES audiences about Amazon's new app, 'Food Network Kitchen' integrated with Alexa, which offered recipes, cooking tips, and live shows featuring celebrity chefs.
Celebrity chef Guy Fieri hosted the event and spoke enthusiastically about the new app while making cocktails with the help of Alexa and Marc Whitten, Amazon's Fire TV chief.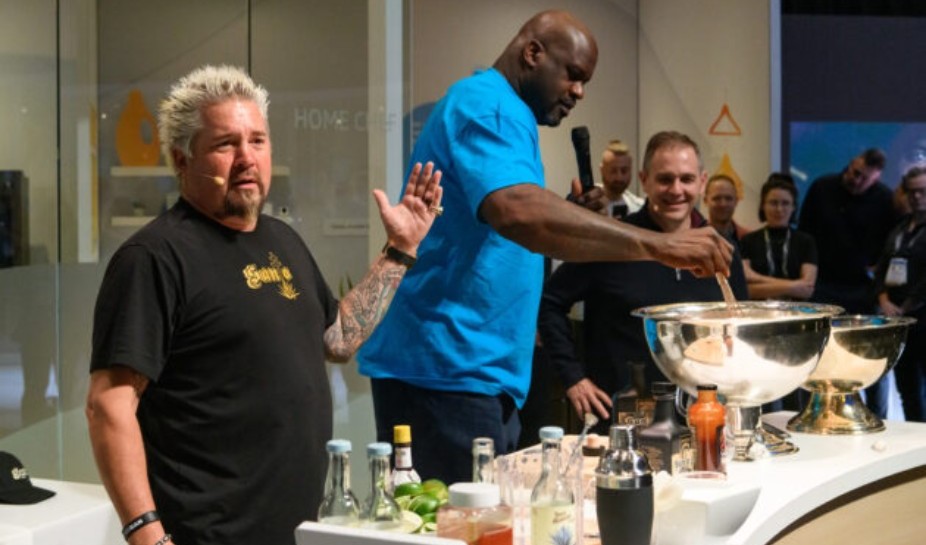 Much to the audience's delight, Fieri then requested the support a 'buddy' to help him cook, calling on his NBA pal Diesel (aka The Big Aristotle/The Big Daddy/ or simply Shaquille O'Neal).
Fitting in with the tech-crowd, Shaq is a regular attendee at CES and refers to himself as 'the world's tallest geek'. The basketball legend and Ring doorbell ambassador happily posed for pictures wearing a branded t-shirt which many guests then shared on social media.
When exhibiting at shows like CES, it's important for brands to stand out from the crowd and offer something different to their competitors. Woolworths is another brand that has delivered truly eye catching activations at consumer shows, like its stand at the Royal Easter Show and the Royal Melbourne Show.