Think of the benefits a brand partnership can create.

Tapping into an established fanbase, extending a campaign's reach, and engaging directly with potential new customers – these are just a few of them.
But it's essential for brands to be picky when it comes to partnerships. We can't stress that enough. An ill-conceived or poorly-executed partnership can leave fans confused, distracted or even disappointed. On the other hand, a strategic and strong brand partnership can delight and excite fans for all the right reasons.
In an indulgent partnership with famous cheesy snack producer Cheetos, fast-food giant KFC has just launched the Cheetos Sandwich, a tasty combination which marries the signature flavours of these two iconic brands. The sandwich is made with KFC's crispy fried chicken smothered in a "special Cheetos sauce" on top of a bed of Cheetos. Mmmm…
The special sandwich is only available for four weeks, so to boost this special partnership and make sure that no one missed out on the limited edition offering, KFC held an 'All Orange Everything' pop-up in New York City, celebrating the memorable colour of the cheesy puffed snack.
The pop-up didn't just show off the highly-anticipated new sandwich with samples available to the public, but in true KFC style, the chain also dreamed up a couple of other Cheetos-infused dishes for hungry fans.
Chester Cheetah welcomed guests into the co-branded space, where a whole host of delicious snacks were available to try for free.
There were KFC Hot Wings covered in Cheetos sauce, Cheetos Loaded Fries sprinkled with Cheetos dust, and a KFC Mac and Cheetos Bowl featuring a creamy three-cheese blend.
Fans rejoiced at the opportunity to get the best of both worlds in a loaded sandwich, and at the same time sample the weird and wonderfully cheesy creations.
It's easy to see how this brand partnership tapped into and shared the love for each brand. Not only did KFC and Cheetos create something to delight the taste buds of fans, they created an eating experience worth telling your friends about and sharing on social channels.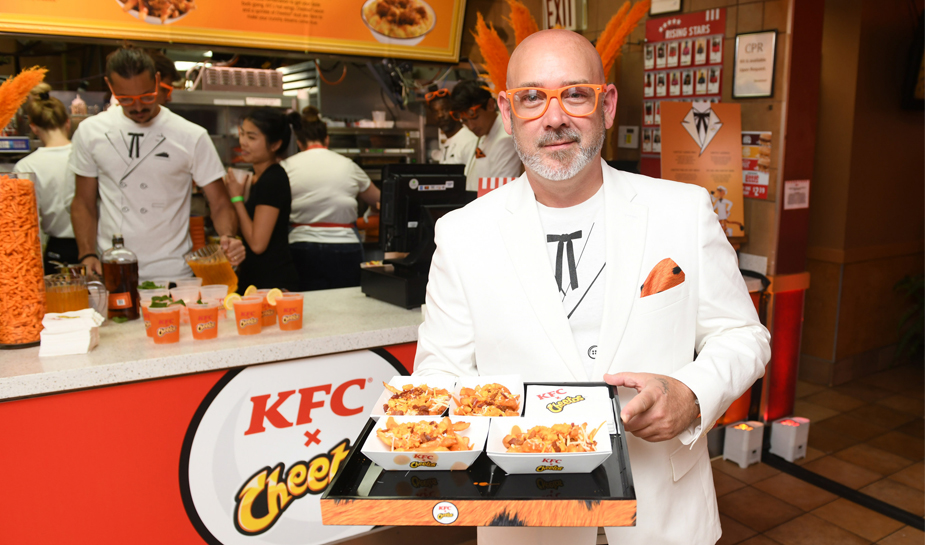 It's always good to see two established brands come together to deliver something special. Other great recent examples include Airbnb's partnership with LEGO to create a liveable LEGO house for people to stay in, and Coca-Cola maximising on its Olympic Games partnership with a social hangout for teens to enjoy the games in style.