Anyone new to the world of parenting will know that choosing the right pushchair is far from easy.
With so much choice on the market, picking the best vehicle for transporting your precious cargo can be a pretty daunting experience to say the least. And the worst part? That the end user of the product is unable to feed into the decision-making process.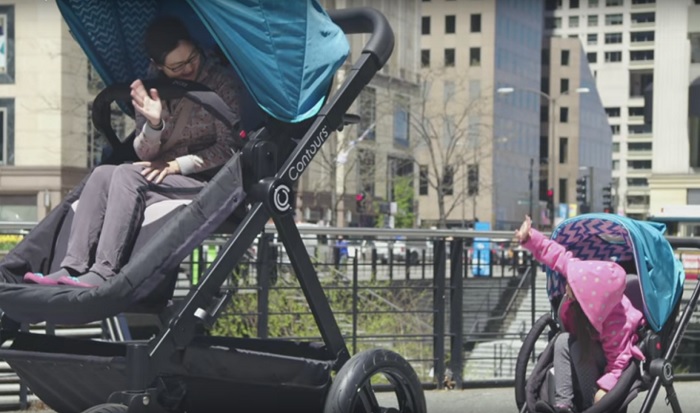 Is it comfortable to sit in? Is the ride too bumpy? What's the view like?
These are all questions that parents would love to have answers to – but that's never really been possible before. After all, babies can't talk.
Thanks to the efforts of baby product manufacturer Contours Baby, we need wonder no more. The brand recently delivered a quirky experiential campaign that we absolutely love. It's fun, hard to forget, and it quickly and effectively gets across the essence of the brand with a highly shareable video.
Contours flipped the experience of being a parent well and truly on its head by offering a host of parents the chance to experience life from their babies' points of view.
The brand's experiential campaign centred around an outsized baby carriage – a perfect replica of its convertible stroller. Parents had the chance to sit inside the stroller and see for themselves just how smooth the ride is, all while experiencing the wonder of being an infant once again.
And, let's face it, all of us have dreamt of reverting back to our earliest days at least a few times, right?
It all makes for a hilarious video, with visuals that surprise and delight passers-by in equal measure.
The Contours Baby Stroller Test-Ride proves how effective live brand experiences can be in getting a tricky message to a clear target audience in engaging fashion. It's an approach we also know a great deal about.
Our GLOBE award-winning Pampers World of Babies roadshow had a very similar core aim, to help new parents understand their babies' needs by experiencing the world from their perspective. Giant toy trains, caterpillars and imaginative discovery pods all helped us to win the hearts of parents and generated plenty of positive buzz for the brand.