The use of creative technologies in live brand experience is a trend that is snowballing.
Demand for expertise in this area is growing, so make sure that you're clued up on the latest experiential technology trends. As a starting point, take a look at these 6.
1. Virtual reality: Oculus Rift
What is it?
Unless you've been living under a rock, it's likely you'll have heard the name Oculus Rift thrown about. Oculus Rift, the application which has aided the re-birth of virtual reality, is a head-mounted display that immerses its user in a computer-simulated environment.
What are its advantages?
With this type of live creative tech, consumers can completely immerse themselves in the brand with their whole focus and concentration dedicated to the experience on offer. Integrating Oculus Rift into your marketing campaigns shows your consumers that you're at the forefront of the latest trends and technology.
What brands have used it?
Various brands have made use of this ground-breaking piece of a tech, but a notable example is the Mountain Dew Snow Experience, that let users snowboard alongside sporting legends.
And be sure to check out our own Oculus Rift activation for Boursin, entitled The Boursin Sensorium.
2. Augmented reality
What is it?
Augmented reality is the blending of virtual reality and real life; images within applications are blended with content in the real world. With AR, users are able to interact with virtual contents in the real world.
Thanks to the popularity of this tech, the smartphone app Blippar was launched. By using this app, agencies and brands can create their own augmented reality experiences that can be triggered by almost anything.
What are its advantages?
The advantages of augmented reality lie in its ability to amaze, dazzle and create truly memorable experiences. The content created by augmented reality applications is highly entertaining, fun and novel. This novelty enhances users' desire to share their experience with their extended networks, and the fact that the content is personalised only adds to this.
What brands have used it?
The Walking Dead used augmented reality to create a scary experience in the run up to series 3 that made people think a zombie apocalypse had just started in their city:
Soft drink giant Pepsi has also dabbled in a fair bit of AR. Similarly to The Walking Dead, Pepsi orchestrated an augmented reality stunt at a bus stop. Where The Walking Dead's stunt consisted of zombies, Pepsi's comprised tigers, UFOs and robots.
And for Halloween, the brand create memorable and terrifying experiences for cinema-goers that transformed their faces into scary Halloween characters:
3. iBeacons

What is it?
iBeacons are essentially 'GPS for indoors', which send personalised, micro-location –based notifications and alerts to one's iPhone. They allow for location-specific targeting of your consumer, such as a highly targeted and relevant coupon for a product based on a fixture they are heading towards in a shop.
iBeacon tech has proved so popular that Mobikats has just launched its own iBeacon mobile marketing platform dubbed Beura. The platform enables brands to track audiences in real space, engage them in real-time and deliver tailored messages, from reward points to service information. It predominantly targets consumer spaces such as retail stores, malls, museums, airports and hotels giving brands a chance to capture their audience in the moment with rich, relevant, proximity experiences.
What are its advantages?
iBeacons can give retailers or brands the opportunity to communicate directly with shoppers not only at a store level but in an aisle or even at a fixture. They are small, low maintenance, low energy and consequently very cost-effective; they can run for up to two years as they have a self-contained power source.
Utilising iBeacons is a great way of amplifying a shopper's customer journey and ensuring all touchpoints are attended to.
What brands have used it?
Of course Apple had to practise what they preached, so the brand itself began using iBeacons at all 254 of its US retail stores in December 2013. Using the official Apple Store application for iPhone, users could shop for new items, check iPhone upgrade eligibility, or pick up an order they've already placed.
At its free exhibition at Saatchi Gallery, Rolls-Royce made the most of cutting-edge iBeacon technology. Guests were handed iPads on entry that came complete with the 'Inside Rolls-Royce' app. The app used iBeacon technology to unlock interactive content as visitors moved through the multi-sensory installations.
4. 3D printing
What is it?
3D printing or additive manufacturing is a process of making three dimensional solid objects from a digital file. The technology has actually been in use since the eighties, but has recently seen a surge in interest.
What are its key advantages?
Key themes within modern marketing, such as online/offline integration, social, or personalisation are very much part of what 3D printing can offer.
What brands have made good use of it?
People could submit their #MorningWin to belVita on Twitter and could be in with a chance to be the owner of their very own personalised 3D printed trophy that commemorated the moment forever. Read about it here:
BelVita's 3D printing #MorningWin campaign.
Volkswagen's 'The Polo Principle' campaign also harnessed 3D printing to allow customers to design and exhibit their own versions of the car, with the winner's design turned into a real-life Polo.
And Asics won the hearts and minds of marathon runners and their supporters with a 3D printing campaign surrounding the New York marathon. The sports brand asked registered New York marathon runners to supply front and side head shots of themselves and, with the help of a team of 3-D artists, immortalised them in 3D printable files resulting in miniature statues of each runner.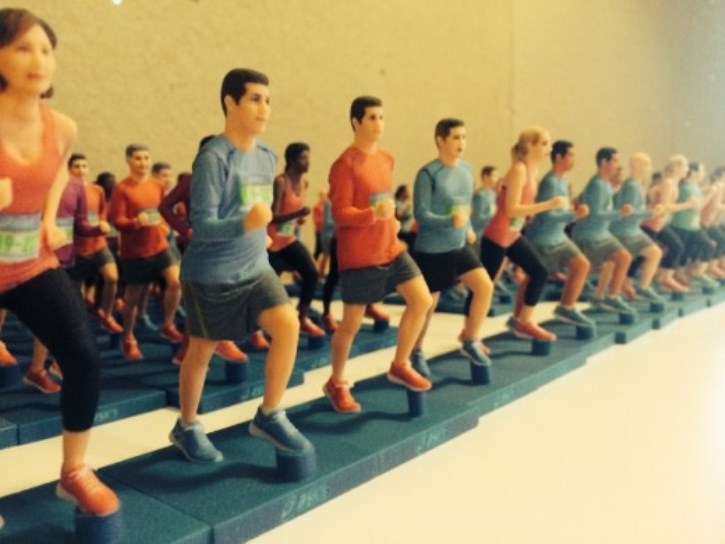 5. Kinetic energy
What is it?
More physics than technology, the kinetic energy of an object is the energy that it possesses due to its motion. Kinetic energy activations tend to be powered by human activity and energy.
What are its key advantages?
This technology makes your audience feel part of the story, powerful and accomplished. It is ideal for brands that want to demonstrate the possibilities of human energy and efforts, such as sports brands and eco-friendly campaigns.
What brands have made good use of it?
In order to promote its Energy Boost trainers at the Santiago de Chile International Marathon, Adidas created a platform that harvested the energy from the footsteps of the participants. This energy was then used to power a large screen that displayed messages of goodwill from the friends and family of the runners.
And we're proud to say that we're also knowledgeable of using kinetic tech in brand activations. For British Gas' Generation Green dance-off event, we installed a Pavegen tiled floor that lit up an energy totem which, in turn, triggered a camera that photographed the dancers.
6. Gesture Recognition/Leap Motion
What is it?
Gesture recognition interprets human gestures via mathematical algorithms. Gestures can originate from any bodily motion or state but commonly originate from the face or hand. Current focuses in the field include emotion recognition from the face and hand gesture recognition.
What are its key advantages?
Immersive, memorable, fun, and interactive.
What brands have made good use of it?
Douwe Egberts presented bleary-eyed travellers at an airport with a coffee vending machine that dispensed coffee when the machine detected the customer yawning. This was a great way of providing a service at a time of need, and putting a smile on otherwise groggy travellers' faces.
Whilst Douwe Egbert's activation responded to yawns, KPT's responded to smiles. The Swiss health insurance providers wanted to show that its clients were the happiest in Switzerland, so it hacked a pinball machine to make it controlled by people's smiles. People could play the game live at Zurich station or online on a bespoke microsite that was linked up to your webcam.
Another great example of Leap Motion technology/Gesture Recognition technology is Heineken' Time Travel activation. The immersive booth invited people in Taiwan to travel with Heineken back in time as part of the brand's 150th anniversary. But rather than it just being a one way experience, consumers were able to control images projected all around them with hand gestures, using Leap Motion technology.
And at the aforementioned Rolls-Royce's Saatchi Gallery exhibition, Gesture Recognition technology was used in the 'Spirit of Ecstasy' installation. Guests could see themselves pixelated into more than a million dancing embers of light and transformed into the 'Flying Lady' that the brand is synonymous.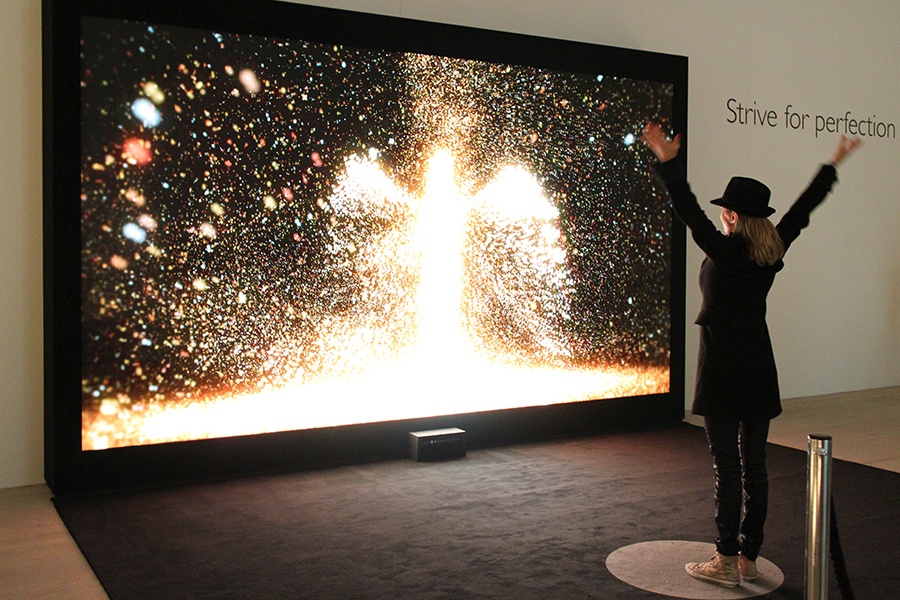 Here at Because we're always on the lookout for the latest and best ways of connecting brands and consumers, and the use of creative live tech is key for this. If you want to find out more about what technology can do for your brand, have a chat with our very own tech guru Joss Davidge on joss.davidge@becausexm.com or give him a call on 02033 713 337.