The sweet spot in life is when you get an opportunity to bring together your personal and professional passions. I was lucky enough to get that rare chance this past winter when the Because Ireland team launched the first ever Après Dublin an unforgettable attraction in the heart of Dublin that saw 20,000 people celebrate the festive season in a custom-built, authentic ski lodge.
This first-of-its-kind offering for Dublin allowed me to combine my long-standing experiential marketing expertise with my personal passion for skiing. And when all the festive smoke had cleared, I was able to look back at what my team collectively accomplished with a great sense of pride.
I learnt a lot of things along the way, and I'm all too happy to share my tips for success for anyone looking to host a large-scale B2C event, draw big crowds and generate lots of buzz.
1. Stakeholder engagement is everything
Never underestimate the amount of people that are involved in pulling off a successful event, especially one in the heart of a bustling city centre. It's absolutely essential to ensure that each and every party involved with your event in some way is kept closely in the loop throughout both the planning and delivery stages, and that their needs and concerns are suitably addressed.
For Après Dublin, there were multiple stakeholder touchpoints across the city and beyond. From local residents and local commercial businesses through to the City Council and emergency services, there is always a lot to consider when bringing a big surge of visitors into an area for a fun and lively brand experience.
Proven event management professionals will always begin by creating a rock solid plan that looks to foresee all potential issues from day one, from set up timings and facilities right through to noise management. This plan should reassure stakeholders that the event is in very safe hands.
2. Tell your story in the right way
Make no mistake: hosting a brand new event is challenging. With no prior awareness or brand love to leverage, you are quite literally starting from square one. And with so many other brands and events vying for attention, that can feel like a daunting prospect.
When launching a new event, you need to get out there and tell your story, understanding the right and most effective channels for your target audience. You need to get your creative right, making sure that your branding and positioning hits the mark. And you need to encourage audiences to take a risk on you.
But don't be deterred: the flip side of the coin is that this challenge is also a very big opportunity. Your event will have no preconceptions attached to it, so you're painting on a blank canvas. With Après Dublin, we sold a vision of the ultimate Christmas party destination, and then we delivered on that, ten-fold.
3. Keep your surprises under wraps
There are many big advantages to staging an event in the heart of a busy town or city. High levels of footfall will lead to many eyeballs on your activation as it's constructed, and will build organic buzz, anticipation and excitement.
But if you want to really keep the best aspects of your event under wraps until launch night, you'll need to be vigilant. In the always-on world of social media, it's all too easy for surprises to slip out.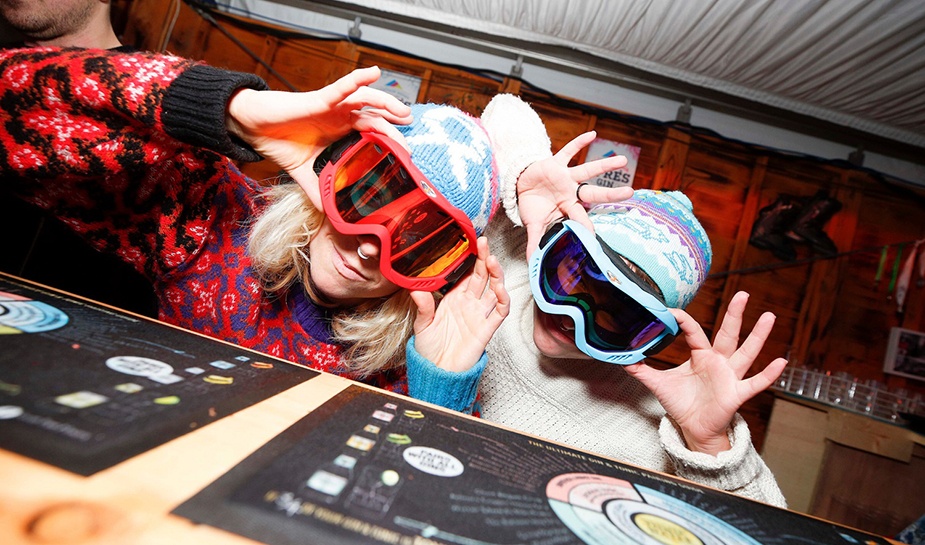 With Après Dublin, we were careful to not give away everything before our opening night. We wanted our visitors to walk through our doors with a concept in mind, not the finished article. And we pulled out all the stops to deliver an authentic, unforgettable experience.
4. Plan for success
With Après Dublin, we knew right from the beginning that we wanted to be back again next year, so we took a long-term approach with all of our event planning and presentation.
How? By making sure that we aligned ourselves with the right partners, and that we had strong, tangible measurement metrics firmly in place to be able to show just how successful the event had been commercially.
Working closely with a top, blue-chip commercial partner like Coors as well as other like-minded businesses meant that Après Dublin hit its ambitious targets in year one. We're already being asked about next year. Eliciting great sentiments and responses from guests and a terrific reaction on social media we're excited about upping the ante in 2018.
5. Be open to all feedback and don't fear mistakes
Don't be too eager to pat yourself on the back once your event draws to a close. Sure, you can breathe a sigh of relief, but wait until you've heard what everyone else around you has to say before you congratulate yourself on a job well done.
Be sure to take the opportunity to proactively gather feedback from as many stakeholders as possible with Après Dublin, this included all staff, suppliers, guests and third parties that we were affiliated with in some way. Be open to, and accepting of, any and all feedback. If there's anything that you know you can immediately change now, do it, and then put your very best foot forward next time.
And don't be worried about making mistakes, or get wrapped up in perfection. It's absolutely fine within reason to tweak and hone your event as you go in year one, as long as you stay true to your vision and don't compromise.
Après Dublin's success in its very first year showed to me that the proof of concept worked. I have no doubt that our event management team will undoubtedly refine it for next time, but we're proud that we stayed true to our creative vision, invested in success, and brought that Après feeling and spirit to Dublin in highly memorable fashion.
If you have a vision, don't be afraid to see it through.
This article originally appeared on Medium.com.