The only constant in experiential marketing is change; approaches and tactics must of course grow and evolve for brands to keep winning over consumers in memorable and engaging fashion. With next year's campaign planning now well underway for many Marketing and Brand Managers, we look back on 2016 to bring you four things we already know about 2017, and one that we really hope will happen too.
1. We'll see many more examples of blended realities
Who'd have thought that Pokémon Go would be the surprise augmented reality hit of 2016?
It's anticipated that a second instalment of the hugely-popular free app will launch in May 2017, with Pokémon Trainer Battles also available to download very soon, requiring players to actually meet face-to-face in order to experience the action. Imagine that.
This is just the tip of the iceberg when it comes to augmented reality's upside (and it's not just digital augmentation that we'll be seeing more of). As the on-demand TV entertainment sector becomes more competitive, we're set to witness reality blend increasingly with fiction and fantasy in both advertising and media.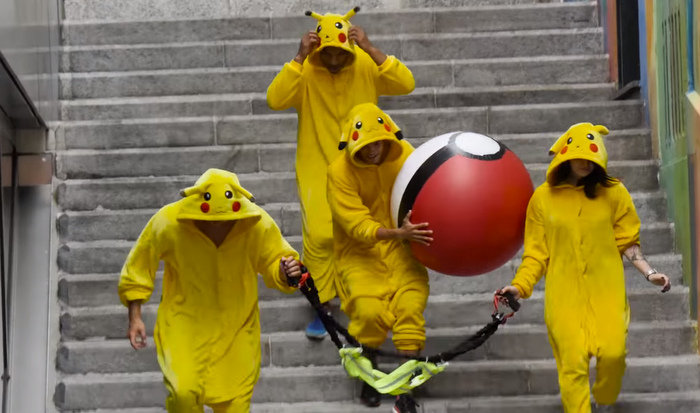 We've already seen faux campaign ads for House of Card's Frank Underwood outshine real-world political candidates by becoming a top trending topic on Facebook and Twitter during CNN's recent presidential debate. We also saw the highly controversial (and quickly pullled) Nazi-inspired imagery promoting Amazon's The Man in the High Castle cause a storm in New York City's subway system after trains were covered in symbols to promote the series.
These blended reality forms of advertising rely heavily on the intelligent consumer being able to tell the difference between what's real and what's fictional. But as entertainment continues to blur these lines, advertising and media will follow suit and our surroundings are likely to become even more surreal.
2. We'll all be getting '90s nostalgia
As digital adopter millennials, aged between 27 and 34 years old, reach a stage in life where nostalgia begins to creep in, we'll see many more '90s references emerge in everything from TV shows to fashion, advertising and lifestyle.
A return to a pre-digital age has already proven a successful concept with the popularity of Netflix's series Stranger Things and the huge surge in vinyl record sales this year.
As we continue to struggle to balance our relationship with technology, looking back at this colourful decade is likely to serve as a form of digital detox for many while at the same time, stirring up some strong nostalgic emotions that brands will want to tap into.
3. Live video will be everywhere
Twitter's decision to close Vine means we'll have to live without all those absurdly creative six-secon loops. Instead Facebook Live, Instagram Stories, Twitter, and even Snapchat's new video-recording spectacles will provide our daily fix of video in the year ahead.
Facebook's VP EMEA Nicola Mendelsohn recently said that video will dominate Facebook in five years time. The social platform will be working hard in 2017 to accelerate that vision, especially in the areas of live video and virtual reality.
Facebook users have already watched more than one million hours of video with Samsung's VR Gear, while Facebook's close collaboration with its VR company Oculus is set to start producing some amazing video experiences for social. Twitter meanwhile has been live streaming news, entertainment and sports events. With its recent announcement that Periscope will no longer be restricted to smartphones, the platform hopes to build a following fixated on live video, not just breaking news.
4. Brands will become more meaningful
As our world becomes increasingly digitised and globalised, the human touch will grow in significance. For brands, this means a greater focus on how they contribute to our daily lives.
We'll see more brands invest in local community initiatives, engage in global issues such as animal welfare and environmental health concerns, and focus their messaging on how they're striving to improve our personal and social wellbeing.
With the economic landscape likely to get tougher, how we spend our money will depend hugely on how much we care about the brands we engage with.
5. Hopefully, the term 'millennials' will die
Anyone that reached young adulthood around the turn of the year 2000 is likely to have had enough of being labelled a millennial by now.
Once an invaluable way for marketers to target their campaigns at a clear demographic, the term has now had its day for a generation of desensitised millennials. It's about time it was dropped and we look to the future, not the past.
Of course, as soon we stop theorising about what makes millennials tick, we'll have to move onto a new audience profile. So in 2017, expect the conversation to turn from millennials to the new 'Kidults' on the block – the centennials.
Navigate 'rave, revenue and ripple' in 2017

Our crystal ball tells us that consumers will continue to crave 'experiences' over 'things' in 2017. That's one trend that's not going anywhere. Take a look at our free eBook for a whole host of techniques and trends to help your brand benefit from the experience economy.