Winter is coming. It's time for your brand to get ready.
It's not just plunging temperatures that you need to be prepared for. Household names worldwide are right now getting set to deliver a whole host of engaging and memorable experiential marketing campaigns, making the most of the chilly months ahead.
There's no doubt that it pays off to reach consumers in compelling, immersive, fun and relevant fashion, and there are many ways to do just that.
Sometimes, all it takes to get things moving is a little inspiration.
Heineken's Christmas carol karaoke reaches millions
Life can be more fun when you take the unexpected route, and Heineken achieved great success when it laid down the gauntlet for unsuspecting karaoke fans to play a big part in its 'Open your Celebrations' Christmas campaign in New York City.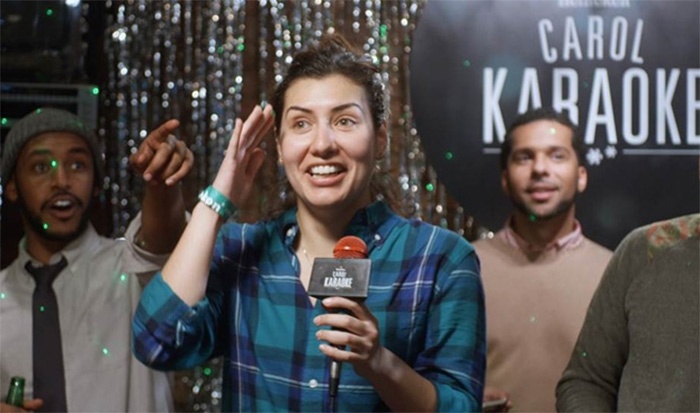 Inviting people to sing festive tunes within the relative safety of a private Carol Karaoke booth, the brand asked brave participants to belt out their favourite festive tunes in spirited fashion.
It was only when the singing was underway that Heineken's team shocked those taking part by giving them just ten seconds to decide whether they wished for their dulcet tones to be shared, live, at some very high-profile public locations – including Times Square and on the big screen of an NBA basketball game.
We love this fun and daring one-to-one live experience. It brought together live, outdoor and online elements to create a disruptive and memorable campaign, one that was absolutely perfect for social sharing.
PNC's pop-up gingerbread bank
Banks are far from the most popular of institutions at any time of the year. And that's especially true at Christmas.
So it was great to see US bank PNC pulling out all the stops last year to raise its profile and create a festive feeling during a financially-challenging period for many shoppers – by building the world's first life-size gingerbread bank. We kid you not.
2.5 tons of gingerbread, 100 gallons of frosting and 1,232 gumdrops went into the creation of this delicious and pretty incredible winter activation. Highly ambitious in its execution, the stunt unsurprisingly wowed shoppers who were captivated by the beautiful 12-foot structure.
Not just for show, the gingerbread branch provided actual banking services, with customers able to open a new account and withdraw cash from a cookie-encrusted ATM. A 360˚ video tour of the bank, made available online afterwards, extended the bank's shelf-life and the reach of the experience. Tasty.
Russian Olympic Committee shares the warmth
For many of us, winter is a tough season to endure. The months of long nights and cold weather can make us all feel a little chilly inside. But with an average seasonal temperature of -10˚, Russians feel this more than most.
In a fun effort to encourage people to stay warm, the Russian Olympic Committee placed 10 very unique experiential social heat lamps throughout Russia and challenged people to walk up to them and be active.
Each person brave enough to take the challenge was encouraged to carry out various activities to stave off the winter chill, such as jogging on the spot. Once completed, the heat lamp provided warmth to another heat lamp elsewhere in Russia, passing heat on to complete strangers and offering a great chance to connect with fellow countrymen.
By combining a simple message with a social-focused activation, this heart-warming campaign united the country together in the Olympic spirit.
Tell me more!
For even more inspiring examples, download our free eBook –10 game-changing winter brand campaigns – today.
{{cta('a59b73ac-408e-4034-b08d-4cb00bdae51e')}}